WELCOME TO ANGELICA'S MUSIC STORE
Thank you for visiting Angelica's Music Store. I design all of my own merchandise using vibrant colors in a musical theme that compliments my original music.
Many of the original designs include song titles, lyrics & personal quotes that are incorporated into colorful patterns, set to a "World Of Dreams" theme from my CD's. 
Thank you for visiting my store & thank you for listening to my music.
Angelica
WATCH ANGELICA'S VIDEO TO VIEW MERCHANDISE
ABOUT ANGELICA
Angelica (Angela Johnson) is a pianist, singer-songwriter producer, with 7 CD'S of original music, in the pop & classical music genres. Angelica records, produces & arranges her own CD's, as well as arranges, produces & performs on other artists records. She entertains a wide variety of audiences, including touring on cruise ships as a "Piano Bar Entertainer". Angelica performs concerts & shows as a soloist & in bands, with a repertoire of over 4000 songs, in all styles of music.  Angelica is the "Winner Of The People's Choice Award" - (Music) The Waterfront Awards, Toronto - 2019. She is currently in session recording her latest album & is enjoying an ever-increasing profile as one of Canada's finest performing and recording Artists.  
View Angelica's Full Profile.
Follow Angelica On Spotify.   
"It's A Long Goodbye" - Angelica
Winner Of The People's Choice Award - (Music) - 2019 - Angelica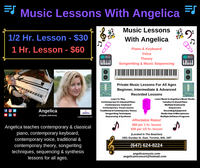 MUSIC WITH ANGELICA
Angelica teaches contemporary & classical piano, contemporary keyboard, contemporary voice, traditional & contemporary theory, songwriting techniques & synthesis for all ages.
http://www.angelicasmusic.com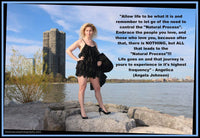 Thanks For Listening To My Music.
Angelica